Top 3 Famous Churches For Weddings In Singapore
Here are some of the very best, most famous churches in Singapore for couples to get married at and are located at convenient locations as well.
1 St Andrew's Cathedral
First of all, it would be the St Andrew's Cathedral right smack in the middle of town next to Raffles City.
One of the most gorgeous churches in Singapore, St Andrew's Cathedral is a hot favorite for many young couples who are getting married in a church within the island of Singapore.
Don't you think it looks so beautiful? The most amazing part about St Andrew's Cathedral is that it is actually located right in the middle of the city with many sky high buildings and skyscrapers all around it despite its colossal proportions.
2 Church of Saints Peter and Paul, Singapore
One of the older churches in Singapore, Church of Saints Peter and Paul is also another hot favorite for couples, though it is more for couples who appreciate the past a bit more. This is because this church is significantly smaller in size, and hence not as well known. Only those who love a little history of churches in Singapore would actually want to go to the Church of Saints Peter and Paul for their marriage. Located at 225A Queen Street, 188551 in Bugis area, it is also situated very conveniently for both couples as well as their many guests.
3 Barker Road Methodist Church
If you prefer a church with a more rustic rather than Victorian feel, try the Barker Road Methodist Church for your wedding. Located off Dunearn and Barker Road, this Methodist Church has a really intimate feeling in my opinion… and apparently many other couples' opinions too.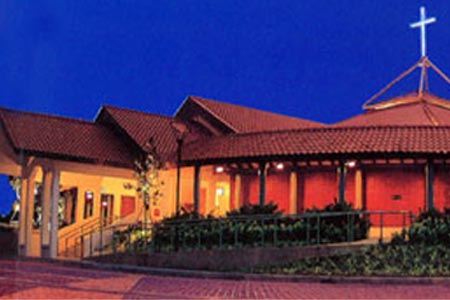 What do you think? Which one of the above 3 mentioned churches is your favorite and are you going to any of these churches in Singapore for your wedding? Let me know in the comments below!